Wardrobe Moving Boxes are Ideal to EASILY Transport Your Hanging Clothes
Wardrobe moving boxes include a bar that makes it easy to transport your hanging clothes. Instead of trying to transport your hanging clothes in your own car where clothes could get wrinkled and take your time, you can have you movers put your clothes in their truck. Then when you arrive to your new home you can easily transfer the clothes from your wardrobe boxes into your new closet with ease.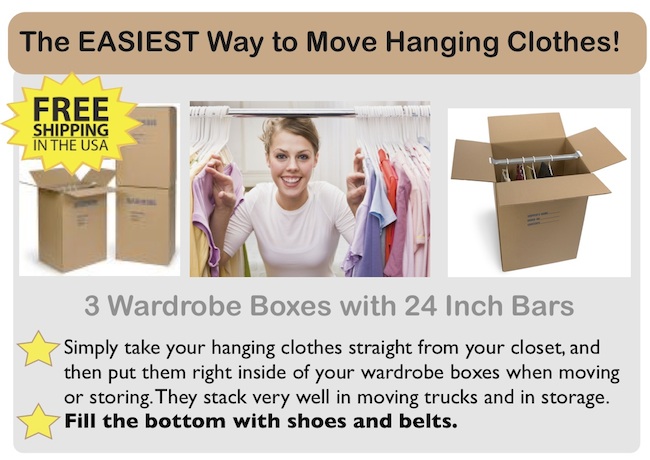 After Instant Rebate: $43.00

Regular Price: $50.59

FREE SHIPPING

3 Wardrobe Moving Boxes 24" x 24" x 40"
Heavy Duty Boxes with Metal Hanging Bars

This bundle of 3 double-strength 44ECT wardrobe boxes are ideal for hanging and moving clothes. Each Moving box comes with its own metal bar, so you can move clothing right from the closet to the box with a convenient front access panel and integrated hand holes for easy carrying to and from your moving truck. There is also extra room in the bottom to store shoes.


*Our Wardrobe Boxes have 60% More Space than most of the Competition*

Learn More
Wardrobe Boxes Enable You To Hang Your Clothes Inside of the Wardrobe Moving Boxes

with 24 Inch Bars
Wardrobe moving boxes are the easiest possible way to move or store hanging clothes. Many times local companies provide these free of charge for you to use the day of the move, but this isn't the case for long distance moves.

Wardrobe Moving Boxes For Local or Long Distance Moves:



If you are moving locally or long distance, renting a u-haul, hiring a mover, or transporting clothes into storage, we suggest that you use wardrobe boxes. Trying to put clothes inside a car "loose" isn't practical. Movers will not transport clothes unless they are in boxes and if you put hanging clothes in regular boxes they will get wrinkled and it will take a lot of time to unpack.
Wardrobe Moving Boxes Packing Tips:
1. Use wire hangers to maximize space inside of your wardrobe moving boxes and hang your clothes inside of the box.
-(Optionally you can place a large plastic bag around your clothes. This is helpful if you are placing your clothes in extended storage)
2. Line the bottom with shoes to utilize all areas of the box. You can also fill the box with belts and hats.
3. Seal the top of the wardrobe box with tape once you are ready to move.
4. Label the outside area with what room the carton should be placed in.
Wardrobe Moving Boxes Are Best Used For the Following:
1. All of the hanging clothes in your various bedroom closets
2. Don't forget your coat closets. Coats can also be placed at the bottom of the box to save room from putting them on a hanger.
3. Garage storage winter clothes. (Often great to put at the bottom of the wardrobe boxes)
4. Large items that need to be packed in a heavy taller box
5. Transporting taller plants in a U-haul keeps the truck clean and prevents dirt from spilling on your other belongings. (Many moving companies will not transport plants)
6. Large, taller toys that you need to pack
TIP: Get the most of your investment and save your wardrobe moving boxes for storage in your garage to rotate winter and summer clothes, or to store your ski, camping and sports equipment like wetsuits.